Morro Bay (A Nice Weekend Getaway)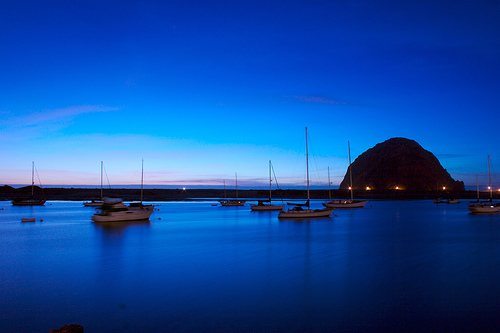 Just a nice somewhat short drive from home there is a place so timeless in my mind that I believe it deserves some time and recognition. My family has vacation in Morro Bay ever since I was young, I honestly don't remember a time that we didn't go camping or vacationing in Morro Bay. Every year for as long as I can remember my Grandparents have summered in Morro Bay escaping the Visalia summer heat.
Though I used to remember Morro Bay in much more detail than I do currently I remember certain things that have significantly changed since my childhood. First I remember the coast in general being more a place that people wanted to be, it seems like not many people have or take time to visit any more. The fishing industry has also moved
out of Morro Bay leaving it a simple bay with a couple of rusting fishing vessels and a power plant that provides the surrounding area with power.
It is at Morro Bay that I first learned to fly a trilby stunt kite a simple diamond stunt kite with a long tail which brought me to flying other stunt kits as a hobby. Now in my collection I have multiple kites all from Prism that keep my time on the beach occupied. Swooping back and forth turning loops and letting bystanders experience the fun that kites can create themselves. Flying kites is a hobby that can bring big smiles to people walking by and bring great fun to people who are willing to give it a try. The local kite shop Farmer's Kites which yearly sponsors the Morro Bay Kite Festival welcomes visitors and attempts to help people find kites that fits their needs and skill level.
Lately Morro Bay has become more a place of relaxation for me than a place to play, having taken my wife on our Honeymoon to the Inn at Morro Bay. Now we spend our time simply hanging out and relaxing, taking walks on the beach, flying kites when we feel like it and taking lots and lots of photographs. Evenings are spent going to area restaurants such as Windows on the Water, Old Port Inn and Flying Dutchman.
Though my main photography interest is in wedding and portrait photography I feel that both come from a passion for scenic and landscape photography below I have included photographs taken over the past couple of years for everyone to enjoy.
There is a rich history and to discover in all Central California Coast locations and I believe even more yet to be discovered for myself here at Morro Bay.