Archives
Montana De Oro
Went for a drive out to Montana De Oro State Park, just south of Los Osos, California and found a couple of beautiful scenes that I thought that I would share.
Whale Watching in Morro Bay, Ca
We spent the afternoon Sunday on a small little boat, Sub Sea Tours Dos Osos, out on the ocean whale watching. Now by small I mean much smaller than you would expect someone to be on the ocean on, by know means an unsafe craft, I would expect the preferred method for sea going would be something about the size of the Titanic. I have never really liked the ocean and it's size and the size of the creatures that could come and take a bite out of you and would much prefer the size and relative safety of a ship compared to the pontoon boat that we were on.
The outing started with a quick tour of the harbor, looking at the harbor seals and some of the local boats and local folks who live on the harbor.
We exited the bay on almost no waves, it was a strange feeling to have relatively nothing holding us into the bay, the seas wet much more calm than they had been before. The last time that we were out trying to see whales the ocean awl so most hostile, especially to the very same boat that we were on this time compared to the last.
Just out of the harbor we took off almost straight west looking for whale flukes, spouts of water pushed up by the whales when they surface to breath before taking another dive into the depths of the ocean, and again into the food that sustained them. During this time of the year it is the Humpback Whales that  are viewable most of the year when taking a whale watching tour out of Morro Bay, California. Below you can see a photo of the fluke that we were looking for, though this one is towards Morro Rock instead of the view that we had looking for the whales.
Not long after finding a couple of whales and working our way behind them we were treated to a breaching whale, the only of the day and all I could do was watch as it landed into the water, such a powerful animal, almost hard to believe that an animal that big could come out of the water at all. The rest of the afternoon we were treated to whales almost lazily swimming through the water, they would surface and get a couple of breaths before diving down again. It's easy to know when a dive is started, the whale tail usually comes out of the water as they angle their body's down into the water, getting ready for the powerful strokes that takes to dive to the depths.
At times throughout the afternoon we were treated to whales nearly circling the boat, the closest instance startled us all as the whale surfaced just off the side of the boat in a direction that none of us were looking at the time. The photo below, though not a very good photo is an example of how close the whale actually was when we turned around to see it continuing on. To finish out the day we were able to see one last whale going down for a dive with Morro Rock in the background, absolutely beautiful.
J & A Kane Wedding
Justin and Anita were married in Pismo Beach, California, as close to the Pacific Ocean as you can possibly get without being in the sand with a wedding dress. In fact we did take them down to the beach to get some photographs of the both of them. Walking down the long staircase at the Sea Crest Ocean Front Hotel to the beach below can be quite a task for anyone especially anyone in a wedding gown however Anita was very willing to take on the task for the images that would be captured after the decent to the sandy beach below.
The reception for Justin and Anita was held at Steamers of Pismo Beach just down the street from Sea Creast in their banquet room, wonderful food and atmosphere both.
Their exit was no less spectacular than their wedding location with sparklers ablaze the bride and groom left the reception to start their lives together.
If a bride and groom elect to see each other before their wedding it really can make the day much more relaxing for everyone, including the guests who look forward to the grand entrance of the couple to the reception.
Weekend Vacation in Cambria
A weekend in Cambria, California would be enough to slow anyone down, the small town atmosphere and late summer fog is exactly the reason that many people find themselves heading over to the coast to get a reprieve from the sometimes suffocating summer heat in the Valley. Cambria offers a small town in their downtown ready to cater to anyone looking for antiques or a couple of art shops. Just a short trip up scenic highway 1 you can see Hearst Castle former home of W.R. Hearst newspaper tycoon. My images from a prior visit to Hearst Castle can be seen here.
[slidepress gallery='CambriaWeekend2009′]
Day 1: San Ramon, Ca to Eureka, Ca
For the most part today was spent in the car, after completing the work needing to be done for work we took off and threw all to the wind, hoping to find some rest and relaxation along the road to Eureka. Though the weather was what most would call hot we spent most of the day marveling at how cool it was. Few stops were made except to trade drivers and get the fuel that we needed to continue on.
The highlights for the day, besides getting away from work and being on vacation included the traditional crossing of the Golden Gate Bridge to symbolize the starting of our summer vacation, lower fuel prices, and a toilet in the middle of the field. It's obvious that a toilet in the middle of a field would obviously be a strange highlight for a day's journey however this toilet is the subject of many laughs for Katherine and I and has held it's current location for quite some time, at least 4 years that Katherine and I are aware.
Arriving in Eureka right near dinner time we made plans to find a place in Eureka and that we did, straying form highway 101 just enough to find their downtown area we found a nice, almost family style, restaurant right next to their bay. Walking in we were kindly greeted and quickly ushered to a place that we could dine. This being the first time that we were near the ocean since our normal January trip we elected to have fish and chips with a small side of clam chowder, tradition for us when we are near the sea. Just as a plug for those that find themselves wandering through Eureka I would suggest Cafe Waterfront Oyster Bar or any of the of their downtown establishments for dinner.
Upon the completion of dinner we walked around Eureka briefly and then proceeded on to our destination KOA for the night. Vacation for us comes with a tent, at least that is the way that we have continued to pursue vacation, there is no better place in our opinion while traveling up the California, Oregon and Washington coasts than Kampgrounds of America or for those that most often frequent them KOA. With the KOA's as our normal spot we can assure a place to sleep and a place to catch the much needed shower, and usually internet, by which I plan to post this entry.
Snacks for the trip included dried peaches, nectarines, banana's, and apricots.
Monterey Bay (Aquarium) Day 2
Though a little too busy for me, the second day at the Monterey bay aquarium was quite an experience, instead of worrying about getting around to all o the different exhibits and learning about some of the ocean life there, I was able to again visit the locations that I wanted to see again and watch other people as they interacted with that exhibit for the first time, or children getting excited about something they were able to once again see.
With a change in the weather today the tanks that received their light from the sun were much better lite allowing many to better see the color of the fish, and more activity from the fish responding to the increased levels of light. The balconies across the sea side of the aquarium were also much more heavily frequented today by everyone, glad to have a place somewhat sheltered from the wind to look across the sun filled bay with birds and a couple of boats to attract interest.
The Big Aquarium at Monterey offers the ability to see some of the ocean life that is in the open water, and how they interact with the other fish belonging to that location. Rays, Sharks, Ocean Sun Fish, barracudas, and different kinds of tuna, all were found in this tank, all taking different positions in the tank, with a school of mackerel amongst them all. The most exciting fish in the exhibit for the youngsters in the room was the Hammerhead Shark, who's trips across the aquarium glass was infrequent but brought from the young boy shouts of awe.
Near the big tank was the Jelly Fish exhibit, though this exhibit doesn't change much on a day to day basis, it was nice to have the correct photo equipment to photograph these creatures. Featured with a blue back ground and a pale pink light the jelly fish stood out wonderfully for photographs. The jelly fish's smooth movement very calming and almost hypnotic to watch I found myself taking many pictures, and just standing and watching until I had completely lost track of time.
Today, at least initially, the Sea Otters were much more relaxed at the top of the tank, sleeping and preening themselves, though this wasn't as exciting for the youngsters looking for something fast moving or dangerous to look at, it was exciting for me. I have many times photographed wild Otter with their pup's in the Morro Bay and found it exciting to see the Otter doing what I have often seen.
Opening on April 9th 2009 the Monterey Bay Aquarium will be host to a Sea Horse exhibit. Providing yet another small attraction for tourists and youngsters alike, another learning opportunity for everyone.
Monterey Bay (Aquarium) Day 1
Monterey Bay Aquarium was our destination today as we traveled to Cannery Row. Though not my first time to the Steinbeck romanticized area it was my first time to the Monterey Bay Aquarium. The wet afternoon had chased away many of the people that would otherwise have been at the aquarium allowing an almost unobstructed view of nearly every exhibit.
Knowing that we were somewhat short on time I found myself almost hurriedly going from exhibit to exhibit trying to take in as much of the sights as possible before it was time to leave, forgetting the fact that we had two days to take in the sights and information presented at the aquarium.
It what felt like a single breath and a single thought I went from exhibit to exhibit until I had nearly seen them all. Worn out by the effort put forth to see everything at the Aquarium so quickly, I took a short retreat to the rain soaked balcony along the ocean front side of the aquarium, a breath of fresh air and an opportunity to relax. With thirty minutes left to look through the aquarium we found ourselves looking through exhibits detailing the life of jelly fish. On the way out of the aquarium stopping to get a couple additional photographs of the jelly fish.
We then went to dinner at a restaurant which serves perhaps the best clam chowder I have ever had. The Fish Hopper in monterey offer a large selection of other fine foods but I have yet to try any of those, the taste of the clam chowder haven't let me move on.
Morro Bay (A Nice Weekend Getaway)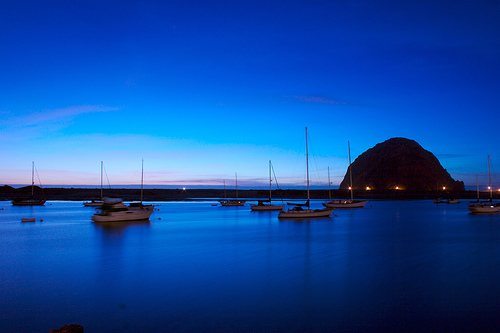 Just a nice somewhat short drive from home there is a place so timeless in my mind that I believe it deserves some time and recognition. My family has vacation in Morro Bay ever since I was young, I honestly don't remember a time that we didn't go camping or vacationing in Morro Bay. Every year for as long as I can remember my Grandparents have summered in Morro Bay escaping the Visalia summer heat.
Though I used to remember Morro Bay in much more detail than I do currently I remember certain things that have significantly changed since my childhood. First I remember the coast in general being more a place that people wanted to be, it seems like not many people have or take time to visit any more. The fishing industry has also moved
out of Morro Bay leaving it a simple bay with a couple of rusting fishing vessels and a power plant that provides the surrounding area with power.
It is at Morro Bay that I first learned to fly a trilby stunt kite a simple diamond stunt kite with a long tail which brought me to flying other stunt kits as a hobby. Now in my collection I have multiple kites all from Prism that keep my time on the beach occupied. Swooping back and forth turning loops and letting bystanders experience the fun that kites can create themselves. Flying kites is a hobby that can bring big smiles to people walking by and bring great fun to people who are willing to give it a try. The local kite shop Farmer's Kites which yearly sponsors the Morro Bay Kite Festival welcomes visitors and attempts to help people find kites that fits their needs and skill level.
Lately Morro Bay has become more a place of relaxation for me than a place to play, having taken my wife on our Honeymoon to the Inn at Morro Bay. Now we spend our time simply hanging out and relaxing, taking walks on the beach, flying kites when we feel like it and taking lots and lots of photographs. Evenings are spent going to area restaurants such as Windows on the Water, Old Port Inn and Flying Dutchman.
Though my main photography interest is in wedding and portrait photography I feel that both come from a passion for scenic and landscape photography below I have included photographs taken over the past couple of years for everyone to enjoy.
There is a rich history and to discover in all Central California Coast locations and I believe even more yet to be discovered for myself here at Morro Bay.
January Get Away (not in January)
Last year while at Morro Bay for my normal getaway with my wife for our anniversary I decided that I had to have a lens with more telephoto than anything that I had previously had. After much consideration and research I decided that the Canon L Series 300mm 2.8 was the correct lens for me, it would offer the right amount of reach without suffering from to much weight. My investment in research and a new lens made things much more easy to photograph around the bay.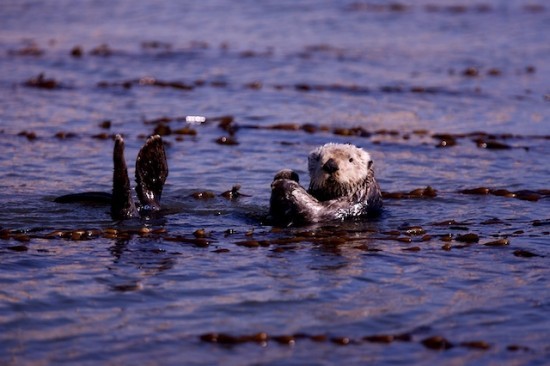 This photograph of a sea otter wouldn't have been possible a year ago, my new Canon 300mm 2.8 makes this photograph possible.