Archives
J & A Kane Wedding
Justin and Anita were married in Pismo Beach, California, as close to the Pacific Ocean as you can possibly get without being in the sand with a wedding dress. In fact we did take them down to the beach to get some photographs of the both of them. Walking down the long staircase at the Sea Crest Ocean Front Hotel to the beach below can be quite a task for anyone especially anyone in a wedding gown however Anita was very willing to take on the task for the images that would be captured after the decent to the sandy beach below.
The reception for Justin and Anita was held at Steamers of Pismo Beach just down the street from Sea Creast in their banquet room, wonderful food and atmosphere both.
Their exit was no less spectacular than their wedding location with sparklers ablaze the bride and groom left the reception to start their lives together.
If a bride and groom elect to see each other before their wedding it really can make the day much more relaxing for everyone, including the guests who look forward to the grand entrance of the couple to the reception.
Sunset, Pismo Beach, Ca
After looking at the Monarch Butterflies we had to go to the beach being in "Pismo Beach" as we were, it would crazy to drive 7 hours round trip in one day to the beach and never see it. We walked down the path that runs through the Monarch viewing area and out to the beach. Here are a couple of images captured from the sand dunes that line the beach.
Monarch Butterflies at Pismo Beach, California
Every year that I can remember the Monarch Butterflies have migrated through Pismo Beach, California on their yearly trek. I have wanted frequently to make my way to the grove of tree's that has been home to the majority of the migrating butterflies but have never found the time to see them. This year I finally took a day of the weekend and made my way there to see the migration and found many beautiful butterflies adorning the tree's.
In the photograph above you can clearly see one of the butterflies has been tagged, this will assist with the tracking of the butterflies from the point of origin to their destination as well as the population registration. Each butterflies wings may be unique but a tag with numbers/letters is much more efficient when counting. According to historical counts, the numbers of Monarchs making the annual trip is on a steady decline with peaks every couple of years. The count as of today is more than last year but not as large as has been seen. Being really a short drive from my home in Visalia; I hope to attend the grove each year over the next couple of years in hopes of seeing a large year, instead of steady decline and collapse.
Canon Beach, Oregon
Our first view of the Pacific Ocean while on vacation was Cannon Beach, Oregon, I think that labeling it the Morro Bay of Oregon would be appropriate as it seems very popular with the locals but has somehow maintained it's small town charm. Coming from Tigard earlier the same day the difference in temperature was shockingly different and a welcome change to our average California Central Valley Day.
Haystack Rock add's focus to the Cannon Beach landscape and seems to be a central gathering point for photographers such as myself as the sun edges itself towards the horizon. Near the rock there are a number of tide pools to look into when the tide is out. For those willing to listen a learning center, Friends of Haystack Rock, finds it's place at the rock while the tide pools are exposed in hopes of providing protection for the life that inhabits the tide pools through education. The tide pools were interesting to me, besides the life which could be found within they offer many photographic opportunities, especially if you have the right equipment for it.
Weekend Vacation in Cambria
A weekend in Cambria, California would be enough to slow anyone down, the small town atmosphere and late summer fog is exactly the reason that many people find themselves heading over to the coast to get a reprieve from the sometimes suffocating summer heat in the Valley. Cambria offers a small town in their downtown ready to cater to anyone looking for antiques or a couple of art shops. Just a short trip up scenic highway 1 you can see Hearst Castle former home of W.R. Hearst newspaper tycoon. My images from a prior visit to Hearst Castle can be seen here.
[slidepress gallery='CambriaWeekend2009′]
Morro Bay (A Nice Weekend Getaway)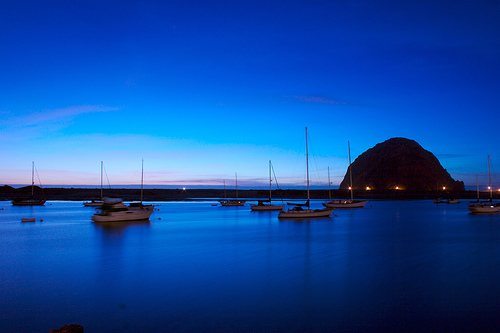 Just a nice somewhat short drive from home there is a place so timeless in my mind that I believe it deserves some time and recognition. My family has vacation in Morro Bay ever since I was young, I honestly don't remember a time that we didn't go camping or vacationing in Morro Bay. Every year for as long as I can remember my Grandparents have summered in Morro Bay escaping the Visalia summer heat.
Though I used to remember Morro Bay in much more detail than I do currently I remember certain things that have significantly changed since my childhood. First I remember the coast in general being more a place that people wanted to be, it seems like not many people have or take time to visit any more. The fishing industry has also moved
out of Morro Bay leaving it a simple bay with a couple of rusting fishing vessels and a power plant that provides the surrounding area with power.
It is at Morro Bay that I first learned to fly a trilby stunt kite a simple diamond stunt kite with a long tail which brought me to flying other stunt kits as a hobby. Now in my collection I have multiple kites all from Prism that keep my time on the beach occupied. Swooping back and forth turning loops and letting bystanders experience the fun that kites can create themselves. Flying kites is a hobby that can bring big smiles to people walking by and bring great fun to people who are willing to give it a try. The local kite shop Farmer's Kites which yearly sponsors the Morro Bay Kite Festival welcomes visitors and attempts to help people find kites that fits their needs and skill level.
Lately Morro Bay has become more a place of relaxation for me than a place to play, having taken my wife on our Honeymoon to the Inn at Morro Bay. Now we spend our time simply hanging out and relaxing, taking walks on the beach, flying kites when we feel like it and taking lots and lots of photographs. Evenings are spent going to area restaurants such as Windows on the Water, Old Port Inn and Flying Dutchman.
Though my main photography interest is in wedding and portrait photography I feel that both come from a passion for scenic and landscape photography below I have included photographs taken over the past couple of years for everyone to enjoy.
There is a rich history and to discover in all Central California Coast locations and I believe even more yet to be discovered for myself here at Morro Bay.
January Get Away (not in January)
Last year while at Morro Bay for my normal getaway with my wife for our anniversary I decided that I had to have a lens with more telephoto than anything that I had previously had. After much consideration and research I decided that the Canon L Series 300mm 2.8 was the correct lens for me, it would offer the right amount of reach without suffering from to much weight. My investment in research and a new lens made things much more easy to photograph around the bay.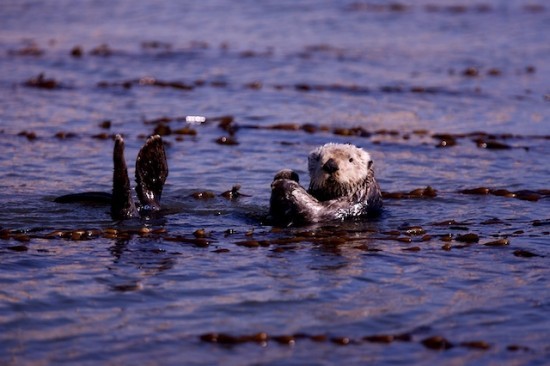 This photograph of a sea otter wouldn't have been possible a year ago, my new Canon 300mm 2.8 makes this photograph possible.