Archives
Stout Grove
Needing some sun after the many days that we had spent enjoying the fog of the Oregon coast, suggested by a friend, we headed to Stout Grove. It was made apparent to me that Oregon Natives escape to Stout Grove as needed so that they can get their needed sunshine and I can see why. Stout grove was bathed in warm sunlight and had giant redwood after giant redwood, with a carpet of ferns to soften the feel and the mood. Sunshine came in spots through the trees while clear blue sky could be seen by simply looking through the highest branches in the tops of the tree's.
Canon Beach, Oregon
Our first view of the Pacific Ocean while on vacation was Cannon Beach, Oregon, I think that labeling it the Morro Bay of Oregon would be appropriate as it seems very popular with the locals but has somehow maintained it's small town charm. Coming from Tigard earlier the same day the difference in temperature was shockingly different and a welcome change to our average California Central Valley Day.
Haystack Rock add's focus to the Cannon Beach landscape and seems to be a central gathering point for photographers such as myself as the sun edges itself towards the horizon. Near the rock there are a number of tide pools to look into when the tide is out. For those willing to listen a learning center, Friends of Haystack Rock, finds it's place at the rock while the tide pools are exposed in hopes of providing protection for the life that inhabits the tide pools through education. The tide pools were interesting to me, besides the life which could be found within they offer many photographic opportunities, especially if you have the right equipment for it.
Tualatin River National Wildlife Refuge, Sherwood, Oregon
Photographs taken at the Tualatin River National Wildlife Refuge
Tualatin River National Wildlife Refuge
http://www.fws.gov/tualatinriver/
19255 SW Pacific Highway (Highway 99W)
Sherwood, OR 97140
Wildlife Safari, Winston, Oregon
During my recent vacation with Katherine we took a tour through western Oregon, one of the first stops that was made was to look at the Wildlife Safari for the Safari type photographic experience. Located just south of Roseburg, Oregon in Winston the Wildlife Safari is set away from the road far enough to allow for it's large size.
[slidepress gallery='wildlifesafari']
At just over $16.00 per person I thought that it might work out to be a disappointment due to the heat of the day driving the animals to migrate to areas of the park with shade, although they did do that there were plenty of animals decided to brave the almost Central California like heat wandering about the enclosed prairie that the Wildlife Safari has put together.
For the price and the experience I would definitely return for another couple of tours, perhaps at different times of the year, and would highly suggest it as a stop for any budding photography like myself.
Day 6: Victoria, B.C. KOA to Burlington, Wa KOA
[slidepress gallery="ButchartGarden2009″]
The day started off with a blessed amount of sleep and just the right amount of get up and go to get on the road after a late breakfast. It was with hesitation that I headed out of the Victoria West, KOA back towards the harbor at Sidney to head back into Washington state, we had on the plan to see Butchart Garden, a highlight of our trip but didn't change the fact that we were as far from home as we were going to get and the next step was a return home to all of the normal things that life is built around.
Consistently today I attempted to take the time to remind Katherine and myself that we were on vacation and we should find a way to enjoy ourselves, even upon entering the garden I re-doubled my effort to provide that reminder.
Butchart Garden was, to me, more interesting than Disneyland and more beautiful as well, everything was green and manicured, with flowers nearly everywhere. The only negative to the garden was the simple fact that it was hot, and by hot I mean a hot in Canada that they haven't seen in quite some time. It was as though Central California's heat had followed us up the coast line and settled for our stent in Canada, welcoming us with it's warmth. The gardens on any cooler day would have taken the entire day or afternoon to experience, we however nearly rushed through the entire garden to see the plants and had to relax at lunch and look through the plant identification booklet to see the things that we had missed and still wanted to see.
One of my remaining questions after seeing the Butchart Garden is, "Do they allow people to have their weddings here?". The gardens have an amazing amount of open time to the public, their summer hours are from 9a.m. Р10 p.m. This is unlike any other garden that Katherine and I have ever seen, and on any cooler day than the day that we visited it would be a magical place to have a wedding ceremony performed.
Katherine and I spent every last moment that we could allow ourselves at the garden before heading back to the ferry port that would send us back home. Even spending as long as we had at the Gardens we still had some time before the ferry would arrive to take us home so we elected to spend it relaxing in one of the local, Sidney, Starbucks coffee houses enjoying a cool smothy.
When the time came to head to the ferry we did so with haste as to not be the last vehicles that would board, customs was a breeze, we again however didn't receive a stamp stating that we were coming back to the United States, not so much as a welcome home or anything really. It is posible that according to the people at the border crossing figured that it's just an every day thing for people to cross from Anacortes to Sidney, it was for Katherine and I the first of many such adventures to places outside the United States.
Onboard the ferry back to the United States, Katherine and I took time to ask a couple from Washington how hard it was to bring their dog's with them to B.C. And found out that it was actually pretty simple. Fears about what it would talk to get our dogs across the border with us was almost the only reason that they hadn't come with us on this trip. At least at the time that this post was written crossing the border with a canine took only proof of the standard vaccinations. Next time we decide to head to B.C. Our boxers may very well be going with use so that they have the attention that they are used to and don't have to stay outside tearing up our yard for lack of attention.
Our return voyage to Washington started at just the right time for a photographer such as myself, the last two hours of any day are often the time to be out with a camera taking pictures, it was for this reason that I had booked this particular voyage. Not only was the time right for photographs we additionally we were very glad to find the heat of the day quickly melting away in the chill of the Alaskan waters, standing on the upper decks the boat we were warmed by the sun and cooled by the wind, a perfect combination.
Initially at least the photographs able to be taken aboard our return voyage weren't as good as good as I had anticipated, we did however have quite a number of hours until the sun would set over the North Western horizon.
Day 4: Astoria, Or KOA to Victoria, Vancouver Island, B.C. KOA
[slidepress gallery='vacationsummer2009day4′]
KOA REVIEW:
The West Victoria, B.C. KOA is a place just off the highway, with only a few things to do. The weather would often bee cool if it weren't for the heat wave covering almost the entirety of the
Our day started early in a rush to get on the road, with this being our only scheduled activity on the entire trip it was imperative that we be on the read without delay. We had in front of us a 4.5 hour drive at the end of which we were to get on a Ferry from Anacortes, Washington to Sydney, British Columbia, Canada. That was quite an undertaking as it was time imperative that we make our ferry to Sidney, BC so that we didn't miss our reservations at the KOA. In typical Ford fashion we made it to the Ferry just in time to load and then leave.
This was the first time that Katherine and I would be outside of the United States since being married, and what a build up it was, looking forward to the cooler weather out on Vancouver Island. The ship took off quickly after our boarding with our Outlander, though I'm not sure how long the boat was actually docked in the first place for how quickly they are able to come and go from all of their ports.
Being the first time on a body of water directly connected to the Ocean, it was very fun to be out on the water, there was a since of excitement that couldn't be broken. There were many things to photograph and many other photographers to talk to; we chatted about equipment and all of the many other things that a photographer can talk about. The boat moved quickly over the water to their first port destination, to take on additional passengers, it seems that a person is able to be picked up from any of the ports on the way to Sidney but not dropped off, that due to the fact perhaps that it is an international sailing. Stops along the way were Orca's Island and another port that I forgot to grab the name of, every island along the way having it's own charm.
During our sailing from the last port to Sidney we came across a Bald Eagle that had become water logged from it's fishing and was attempting to swim it's way to shore. The boats captain, wanting to be environmentally conscious I am sure, stopped the boat to attempt a rescue of the water logged eagle. During the launching of the rescue craft from the ferry the bird managed to swim very close to shore and by the time that the rescue craft got close enough to assist it landed itself on shore, there was a cheer from the people who had gathered on the rear deck to watch the attempted rescue. The rest of the sailing was spent watching the passing islands and looking at the wildlife accustom to the passing of the passenger ferry and other motor boats.
Upon landing in Sidney with the ferry Katherine and I were at the ready with our passports, hoping that we could get a stamp on them for entering Canada, they were not obliged to accommodate, and neither did I ask, though I guess that I should have. We were asked some basic questions about our intent upon entering Canada and with almost all the correct answers they allowed us onto the island to continue our adventure. One of the first things that we noticed was that the weather wasn't as cool as we had expected, our extra set of shirts and shorts were going to come in handy as we dealt with the heat of Vancouver Island.
We spent little time looking around and headed directly to the KOA so that we would know where it was and figure out the rest of the evening after our tent was up, for the first time before sunset. Arriving at the KOA we were graciously greeted, our paperwork quickly filled out and our destination spot assigned. We quickly setup our camp sight and headed back into town to find some sustenance as Katherine and I had only had a snack style lunch during our voyage on the ferry. As a suggestion we quickly headed down the mountain to find a place called 'ÄúThe Little Thai Place'Äù not quite sure what to order we got what sounded good, the results of which were great, our salad more spicy than anticipated was very enjoyable and the entree full of a flavor all it's own, we decided that we could come back here if time allowed.
Dinner complete we found some fixings for breakfast and headed back up the mountain to settle in for a good nights rest. The events of the long day and extraordinary amount of sun had sapped all of the energy out of us and we were ready for bed.
Vacation Preview
[slidepress gallery='SummerVacation2009′]
I am currently on vacation and wanted to share some of the photographs that I have taken during our time away from home. Their are many more photographs on their way.
Day 1: San Ramon, Ca to Eureka, Ca
For the most part today was spent in the car, after completing the work needing to be done for work we took off and threw all to the wind, hoping to find some rest and relaxation along the road to Eureka. Though the weather was what most would call hot we spent most of the day marveling at how cool it was. Few stops were made except to trade drivers and get the fuel that we needed to continue on.
The highlights for the day, besides getting away from work and being on vacation included the traditional crossing of the Golden Gate Bridge to symbolize the starting of our summer vacation, lower fuel prices, and a toilet in the middle of the field. It's obvious that a toilet in the middle of a field would obviously be a strange highlight for a day's journey however this toilet is the subject of many laughs for Katherine and I and has held it's current location for quite some time, at least 4 years that Katherine and I are aware.
Arriving in Eureka right near dinner time we made plans to find a place in Eureka and that we did, straying form highway 101 just enough to find their downtown area we found a nice, almost family style, restaurant right next to their bay. Walking in we were kindly greeted and quickly ushered to a place that we could dine. This being the first time that we were near the ocean since our normal January trip we elected to have fish and chips with a small side of clam chowder, tradition for us when we are near the sea. Just as a plug for those that find themselves wandering through Eureka I would suggest Cafe Waterfront Oyster Bar or any of the of their downtown establishments for dinner.
Upon the completion of dinner we walked around Eureka briefly and then proceeded on to our destination KOA for the night. Vacation for us comes with a tent, at least that is the way that we have continued to pursue vacation, there is no better place in our opinion while traveling up the California, Oregon and Washington coasts than Kampgrounds of America or for those that most often frequent them KOA. With the KOA's as our normal spot we can assure a place to sleep and a place to catch the much needed shower, and usually internet, by which I plan to post this entry.
Snacks for the trip included dried peaches, nectarines, banana's, and apricots.
Morro Bay (A Nice Weekend Getaway)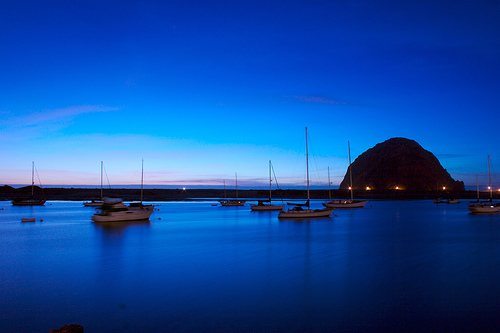 Just a nice somewhat short drive from home there is a place so timeless in my mind that I believe it deserves some time and recognition. My family has vacation in Morro Bay ever since I was young, I honestly don't remember a time that we didn't go camping or vacationing in Morro Bay. Every year for as long as I can remember my Grandparents have summered in Morro Bay escaping the Visalia summer heat.
Though I used to remember Morro Bay in much more detail than I do currently I remember certain things that have significantly changed since my childhood. First I remember the coast in general being more a place that people wanted to be, it seems like not many people have or take time to visit any more. The fishing industry has also moved
out of Morro Bay leaving it a simple bay with a couple of rusting fishing vessels and a power plant that provides the surrounding area with power.
It is at Morro Bay that I first learned to fly a trilby stunt kite a simple diamond stunt kite with a long tail which brought me to flying other stunt kits as a hobby. Now in my collection I have multiple kites all from Prism that keep my time on the beach occupied. Swooping back and forth turning loops and letting bystanders experience the fun that kites can create themselves. Flying kites is a hobby that can bring big smiles to people walking by and bring great fun to people who are willing to give it a try. The local kite shop Farmer's Kites which yearly sponsors the Morro Bay Kite Festival welcomes visitors and attempts to help people find kites that fits their needs and skill level.
Lately Morro Bay has become more a place of relaxation for me than a place to play, having taken my wife on our Honeymoon to the Inn at Morro Bay. Now we spend our time simply hanging out and relaxing, taking walks on the beach, flying kites when we feel like it and taking lots and lots of photographs. Evenings are spent going to area restaurants such as Windows on the Water, Old Port Inn and Flying Dutchman.
Though my main photography interest is in wedding and portrait photography I feel that both come from a passion for scenic and landscape photography below I have included photographs taken over the past couple of years for everyone to enjoy.
There is a rich history and to discover in all Central California Coast locations and I believe even more yet to be discovered for myself here at Morro Bay.