Archives
Anniversary Lunch, Cambria, California
This year we spent the entire day focused on being together for your anniversary, though we haven't ever been apart on our anniversary we did activities that brought some adventure and new shared experiences. Cambria, California was the place for us this year. We were impressed by the pet friendly atmosphere that Cambria and many other towns is California have adopted. Pets are family as well and it's hard to leave them behind in the car when going out to eat.
After walking our Lana our boxer through the entire town to go to the dog park, looking at Nit Wit Ridge we were all famished and in need of sustenance. I put my wife in charge of finding lunch for us. She often picks places for eating that are wonderful and someplace that I wouldn't have normally chosen. While her first pick wasn't open due to a Wine festival the second choice was perfect.
Indigo Moon, a local Cambria establishment, is a wonderful place to cool your heals and enjoy some fantastic cuisine or even a local bottle of wine. If you're looking for a place for a quiet date or a Sunday morning brunch with live music Indigo moon, in my opinion, is the place for you if you are anywhere near Cambria California. You can choose to dine on the front patio with your pet, inside their clean restaurant, on the patio with heaters for those that want the fresh pacific ocean air without the chill, or in the garden. We chose the 3rd of the 4 options wanting to not be street side and having made appropriate arrangements for our boxer.
Don't forget that there are great vacation rentals in the area that make great lodging arrangements through Scenic Coast if checking into a hotel isn't the thing for you.
There is plenty to do just up the coast and just down the coast from Cambria.
January Get Away (not in January)
Last year while at Morro Bay for my normal getaway with my wife for our anniversary I decided that I had to have a lens with more telephoto than anything that I had previously had. After much consideration and research I decided that the Canon L Series 300mm 2.8 was the correct lens for me, it would offer the right amount of reach without suffering from to much weight. My investment in research and a new lens made things much more easy to photograph around the bay.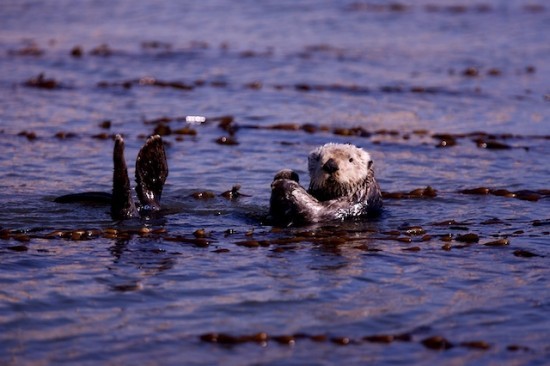 This photograph of a sea otter wouldn't have been possible a year ago, my new Canon 300mm 2.8 makes this photograph possible.